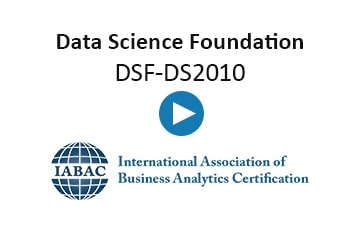 Data Science Foundation Certification (DSF - DS1016)
Beginner level Certification
Entry-level Data Science Certification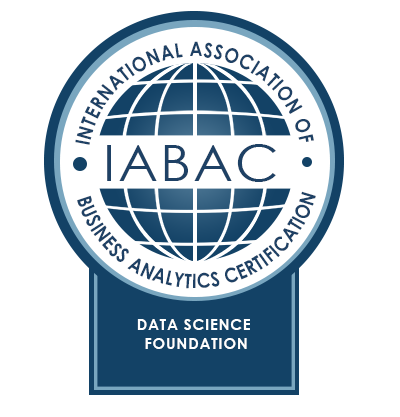 The Data Science Foundation course provided by IABAC is globally recognised, and helps in creating an impression of value and excellence. The Data Science Foundation course is exclusively designed for those individuals who have a passion for data science and wish to make further explorations in the field. Concepts like Statistics, Machine learning, Introduction to Data Science, Roles in Data Science, Industry applications of data science are discussed at this level. The Data Science Foundation certification helps to provide a base for understanding the data science discipline. This course serves as a requirement to pursue other higher data science certifications.
Data Science Introduction
Evolution of Data Science
Organization Data Science Stack
Roles in Data Science
Business Analytics vs Data Science
Machine Learning in Data Science
Business Analytics Classification
Statistics – Exploratory Analysis
Statistics – Hypothesis Testing
Data Science Industry Use cases
International Credential
IABAC® is a widely recognized credentialing framework based on European commission funded EDISON Data Science body of knowledge. This credential provides distinction as high potential certified Data Science Professionals enabling better career prospects.
Global Opportunities
IABAC® certification provides global recognition of the relevant skills, thereby opening opportunities across the world.
Specialization
IABAC Certification designed to cater to the job requirements of all experience levels and specializations, which suits roles aligned with the industry standards.
Relevant and updated
IABAC® CPD (Continuing Professional Development) program enables credential holders to update their skills and stay relevant to the industry requirements.
Higher Salaries
On an average, a certified professional earns 30-40% more than their non-certified as per recent study by Forbes.
Summits & Webinars
In addition, IABAC members will have exclusive access to seminars and Data Science summits organised by IABAC partners across the globe.